Welcome!
NEX (Nicosia Explore & Experience) Hostel is a newly opened hostel, conveniently located in the heart of contemporary Nicosia and only minutes away from the historic city center.
Our hostel is a place offering comfortable, friendly and budget accommodation, where guests from all over the world can meet and mingle, share tips and stories and feel like home. At the same time, NEX Hostel enables travelers to explore not only Cyprus' capital, but the whole island, given that having Nicosia as a basis one can discover and taste the unique countryside and stunning beachside of Cyprus.
The Hostel features three bright and spacious 4-bed shared dorm rooms, with individual lockers, reading lights, plugs and USB ports, AC, a fully equipped kitchen, TV and computer lounges, laundry facilities, two brand-new shared bathrooms and free unlimited WiFi everywhere. What's more, that makes NEX a really special and memorable place to stay, is its large chill-out terrace, providing views over the city-center and a pleasant shelter to relax, socialize with other guests and enjoy a barbeque.
We warmly welcome you!

Getting to NEX
How to come by transports?
From Larnaka or Pafos airports
The easiest way is by Airport and Intercity Taxi Shared Services that drive you directly to the Hostel. Reservation is necessary online or by phone. Prices are €11 (Mon-Sat) and €13 (Sun) from Larnaca Airport and €23 (Mon-Sat) and €25 (Sun) from Paphos Airport.  More information can be found here: http://www.travelexpress.com.cy
You may also take a shuttle bus (ticket is €8 per person from Larnaca and €15 from Paphos) to Nicosia (http://www.kapnosairportshuttle.com/) and then take a bus to the Central Bus Station at Solomou Square.
From another city
Intercity buses from all other cities lead you to Solomou Square. One way ticket costs between €4-€7 and return tickets between €7-€15. More information can be found here:   (http://www.intercity-buses.com/)
From Nicosia Central Bus Station at Solomou Square to NEX HOSTEL
Nicosia Central Bus Station at Solomou Square is located 1 km away from NEX hostel, an easy 10-minute-walk through city center. What you have to do is to walk through Evagorou Av. towards the Cyprus Museum. When you reach the Cyprus Museum (on your right hand), turn left to Alpha Bank and take Gladstonos Street, which is located on the left side of Alpha Bank.
At the end of Gladstonos Street you will find some stairs that lead to Prodromou Park.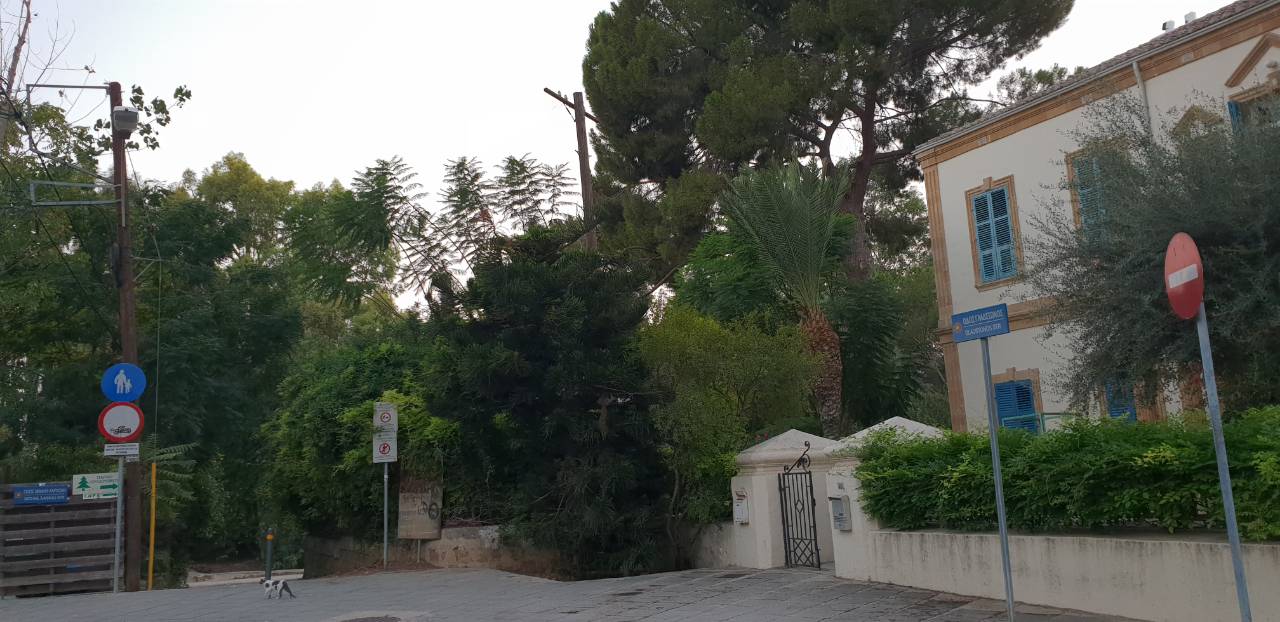 Follow the stairs, cross through the Park and you will reach Dimou Irodotou Street. Walk until you find a small round-about, turn right and after 50 m. you will find Pandora (ΠΑΝΔΩΡΑ) Bakery. NEX Hostel is located in the building right next to Pandora (on the 4th Floor). Just note that our entrance is on the corner (8 Kanari Street), at the side of Alpha Bet.
If you are coming by bus, from Solomou Square take Bus No. 119 and from Ag. Dometios Check Point take Bus No. 115. You can buy a ticket (€1,50 for a single route, €5 for a day pass) either from the Kiosk at Solomou Square or from the bus driver. Bear in mind that buses operate in week days until 21 p.m. and during weekend until 19 p.m. For more information visit site: (http://www.osel.com.cy). When you in the bus, ask the bus driver to stop at Prodromou Av. in front of Evangelistria Hospital. NEX Hostel is opposite the road, in the building next to Pandora (ΠΑΝΔΩΡΑ) Bakery, with our entrance being on 8 Kanari Street, at the side of Alpha Bet.
If you inform us in advance of your arrival time at Solomou Square, we can pick you up and drive to the Hostel.
Taking a taxi is another solution, but please note that taxis are a bit expensive in Cyprus. From Solomou Square you will have to pay aproximately €10.00 and from Larnaca Airport approximately €50.00.
Do you provide a parking for my car?
Yes, we offer our guests a few underground parking spots for free. Please contact us directly for availability and also note that you park at your own risk.